The multiple functions of printed rubber bands are endless.
Wristbands
"Original Printed Rubber Band." They can be used as an easy way to promote your message as hand-outs, wrist bands, or on-pack/in-pack premiums.
• One Color Imprint.
• Production Time: 15 working days after art approval.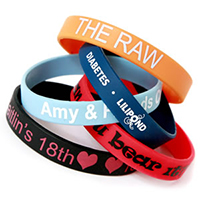 Packaging
Printed JakMousse bands for packaging offers you the ability to reinforce your brand by enhancing consumer interaction with your message.
• Promotions, incentives and product tie-ins.
• Reinforce your brand by enhancing consumer interaction with your message.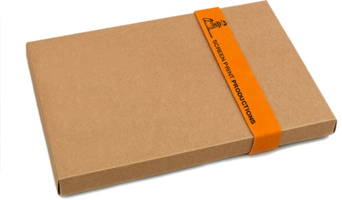 QR Jak Bands
QR Jak bands can link to Facebook, Twitter, YouTube, VIP access, & website links.
A QR code (short for Quick Response) is a specific matrix barcode (or two-dimensional code), readable by dedicated QR barcode readers and camera phones. The code consists of black modules arranged in a square pattern on a white background.
Our new QR bands provide a seamless bridge between print, online and mobile content and allow users one-stop access to information and promotions. Businesses, no matter how small or large, can use our QR Jak bands in a number of ways.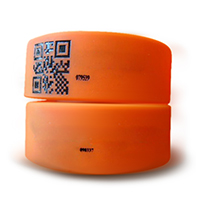 Blacklight Ink
The ink is activated by a blacklight, highlighting your message with a colorful glow. With 3 different ink colors to choose from, these fully customizable bracelets are ideal as an accessory at your next event. Your logo, product, or message will be the feature anywhere UV blacklights are used. The eye-catching ink creates a unique souvenir, even when the bands are out of the blacklight.
Backlight Ink Colors: Red, Green, and Orange